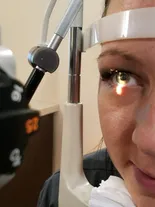 Our eye doctors offer pre- and post- operative refractive surgery care to help you achieve your clearest vision possible. While not everyone is a candidate for LASIK, it can have many great advantages for your comfort and vision.
Questions about Refractive Surgery?
Our eye doctors will be glad to discuss your options with you during your comprehensive vision examination or during your specified LASIK evaluation. We are also happy to connect you with our preferred surgeons to help you get all the information you need to feel at ease with your decision. We gladly provide evaluations and referrals for patients interested in refractive surgery.
Evaluations and Pre-Operative Care
A current examination is important for determining your candidacy for LASIK or other refractive surgery. During your LASIK evaluation, our doctors will review your history as a full eye health and vision examination. Additional testing may also be completed to determine if your prescription is stable and you and your eyes are healthy enough to undergo the procedure without complication.
Although complications are rare, refractive surgery is surgery and a thorough evaluation and history review before the procedure screens for poor indicators of success and reduces complications that may arise.
Once it is determined that you are a good candidate, we will schedule a surgery date with our preferred surgery center. The surgeon will also review your examination and may complete additional diagnostic testing to individualize your surgical options.
Post-operative care
Once your surgery is completed, all of your follow-up appointments can be scheduled here at our office with one of our doctors for your convenience. These appointments usually begin the next day and continue at pre-arranged times for a couple of months depending on your specific surgery. Our eye doctors will communicate closely with your surgeon to monitor for any complications and will answer any of your questions or concerns.
If you have questions about LASIK surgery or would like to pursue the procedure, call (573) 756-5665 to speak with our knowledgeable staff.
---
Discover more: Online Front Desk Services Frames Contact Us