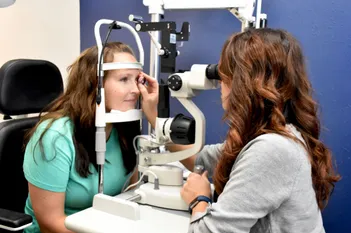 At Farmington Vision Care, we are proud to provide comprehensive eye care for the whole family. Preventative eye exams are important to maintaining good eye health. Many eye conditions have no obvious symptoms until vision is lost but are easily diagnosed and treated at your annual eye examination to prevent or minimize vision loss.
What is the difference between a comprehensive eye health examination and a vision examination?
At our office, we provide comprehensive eye health examinations. This means that while we will complete a refraction to obtain your best prescription to maximize your vision, we evaluate your vision and health as a whole. We examine your ocular health internally and externally, evaluate ocular function (including pupils, muscles, eye alignment, and peripheral vision), and screen you for eye conditions such as diabetic retinopathy, hypertensive retinopathy, glaucoma, cataracts, macular degeneration, dry eye syndrome, ocular allergies, and others.
A comprehensive ocular examination may also provide important information to your primary care provider about your overall health. Our eye doctors will be glad to correspond with your provider regarding information from your examination that may be used to help manage your headaches, diabetes, high blood pressure, thyroid levels, or medication side effects, etc.
For most patients, an annual comprehensive eye examination is recommended by The American Optometric Association.
Have a special concern such as a medical eye condition or require eye care for a parent or child? You can find more information on our Medical Eye Care and Children's Eye Care pages.
Call us at (573) 756-5665 to schedule your comprehensive eye health examination today!
---
Discover more: Online Front Desk Services Frames Contact Us