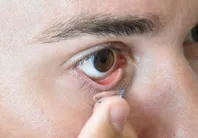 Contact lenses are a great option for many patients. For many people, contact lenses can be worn for many day-to-day activities and can correct your vision with near-sightedness, far-sightedness, and even bifocals. Our eye doctors will be glad to complete a contact lens evaluation with you following your comprehensive eye health examination. During this evaluation, the doctor will discuss contact lens options available for your prescription, eye health needs, and lifestyle needs.
Contacts are not one-size-fits-all and a good fitting lens is essential for maintaining your ocular health and best vision for the rest of your life. Your contact lens evaluation will include all measurements to ensure the best fitting lens for your eye.
Our eye doctors fit soft lenses, gas permeable (hard) lenses, multi-focal (or bifocal) lenses, and specialty lenses. Specialty contacts can be used to treat many ocular conditions including keratoconus, severe dry eye, and post-surgical corneas. The type of lens and the length of time that you can wear your lenses will be determined by your specific needs and your doctor's recommendations based on your eye health and prescription. To learn more about specialty contact lenses and if they're right for you, visit our Specialty Contact Lens Page.
Call us at (573) 756-5665 to schedule your contact lens evaluation today!
---
Discover more: Online Front Desk Services Frames Contact Us