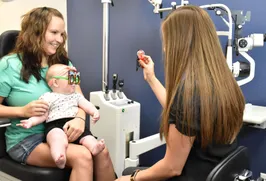 At Farmington Vision Care we provide care to all ages and every member of your family including infants and school age children. We take pride in providing preventative eye care so that your children never have to suffer with an undiagnosed vision problem. Early detection of vision problems in children is crucial to ensure success in school and to prevent potential loss of vision or function in adulthood.
The American Optometric Association asserts infants should have their first eye exam between 6-12 months of age and if there are no concerns again at age 3, again before kindergarten, and yearly there after. Our eye doctors are comfortable examining children as young as 6 months old. The exam is non-intimidating and based on play and interaction with your doctor. Your doctor will review all findings and any concerns with you and recommend an appropriate follow-up schedule. He or she is also happy to communicate with your pediatrician so that he or she can have the whole picture of your child's development.
Has your baby or child had an eye exam with us recently? We love watching our patients grow-up so we started our grow-up gallery to document their first eye exam! Click Grow-Up With Farmington Vision Care to view the gallery!

Infant Eye Exams
Dr. Kwan and Dr. Lukefahr are proud Infantsee providers and volunteer their services with the program for babies between 6-12 months of age. Learn more about the Infantsee program here: http://infantsee.org/
Call us at (573) 756-5665 to schedule an appointment for your infant, toddler, or child today!
---
Discover more: Online Front Desk Services Frames Contact Us