Beauty trends are updating daily but long-luscious, voluminous eye lashes are not going anywhere! Everywhere you look there are products designed to enhance our eyelashes and show-off our eyes.  It is important, however, to take your eye health into consideration when creating your beauty routine. This past year, more and more of my patients are coming in with questions about eyelash extensions, serums, and enhancers.  Everyone wants gorgeous eyelashes. Everyone. But the lengths we will go through to get them can cause complications for our eye health if not done properly.
1.  Mascaras
 Mascaras are a great, easy go-to product but pick a traditional volumizing or lengthening mascara and avoid mascaras with fiber particles.  Although fiber particles can "fill-in" your lashes and add volume, fibers can also end up in your eye and cause irritation.  These mascaras also tend to be more "clumpy" and can clog the glands on your eyelids that help secrete your basal tears (that keep your eyes healthy and moist).  Avoid water-proof mascaras.  The removal of water-proof mascaras is more rough on the eye, requires different products, and more scrubbing.  The skin of our eyelids and the area around our eyes is very delicate and rougher handling (like is required for water-proof make-up) causes fine-lines, wrinkles, puffiness, and dark circles.
2.  Serums and Enhancers
For people who are sick of the mascara routine, lash serums and extensions are an option.  There are many lash serums available on the market right now but only one is medically supported and FDA approved.  Latisse was FDA approved in 2008 and has been used safely by many people to enhance eyelash fullness and growth.  Latisse is prescription only and a quick search shows it runs about $140/month or $60/month for generic with a GoodRx coupon. It is easy to apply to the base of your lashes and shows results in weeks with few or no side effects.  The most common side effect is itching at the site of application.
Latisse Prescription Eyelash Enhancer
3.  Extensions
Perhaps the most popular option right now are eyelash extensions. When applied correctly and taken care of correctly, these are a beautiful, low-maintenance addition to your beauty routine.  Extensions also come with the added bonus that most people find they can wear less eye make-up which eliminates many eye complications from other products.  The key here though is these must be applied correctly and maintained correctly to avoid complication such as infections, dry eye, swollen eyelids, and temporary or permanent loss of lashes.  To avoid complications, seek out a certified aesthetician at a reputable work place that is clean, ensure your aesthetician uses proper hand washing and hygiene practices, and check the ingredients of the adhesives used.  Most complications occur from reactions to the adhesive ingredients or not using proper hygiene practices to maintain your lashes.  Adhesives with formaldehyde components are most likely to cause irritation, reaction, or allergies.
Eyelash Extensions
photo courtesy of SG Skin Studio by Ashly

Some tips to reduce problems: extensions should be applied to the natural lashes and not to the eyelid itself, no glue/adhesives should touch the eyelid, after application there should be no visible glue at the base of the extensions or lashes, glue should be water-soluble to aid removal later.  Do not remove the extensions yourself. Have them removed by a professional or allow them to fall off naturally.  Pulling on the extensions or rubbing the extensions to remove early can result in loss of your own lashes or additional irritation to the skin of your eyelid.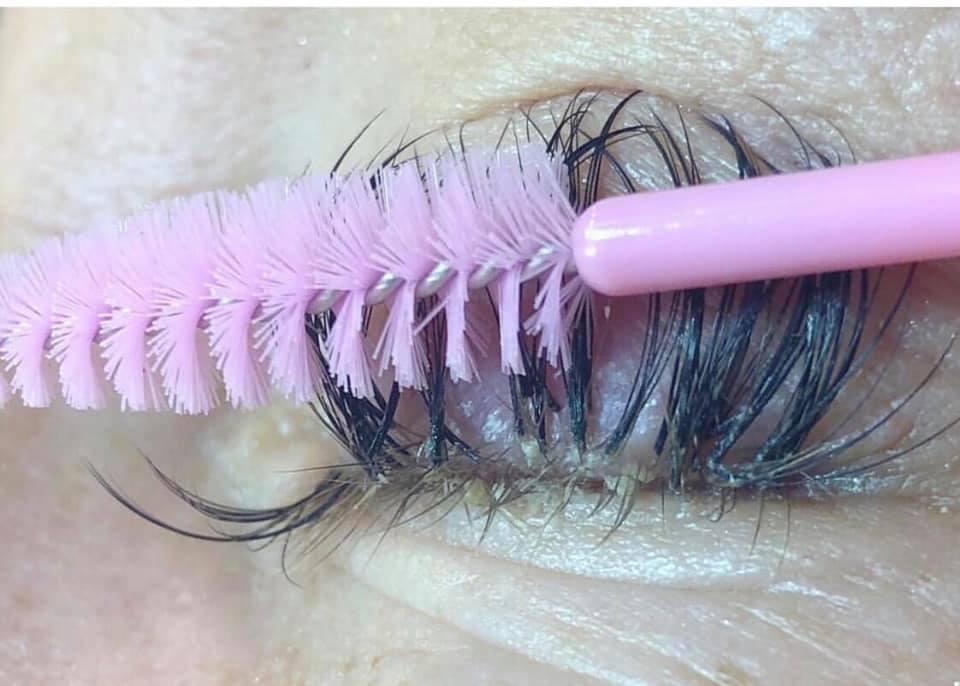 Dirt and Debris at Base of Eyelash with Extensions
photo courtesy of SG Skin Studio by Ashly

Most importantly--you must still clean your eyelid and base of your eyelashes even with extensions!  Eyelid hygiene is extremely important in maintaining comfortable eyes and vision.  Dirt, debris, sweat, oil, and make-up end up on our eyelids throughout the day even without extensions and can clog our tear glands, reduce the amount of tears we secrete, change the pH of our tears (making them more acidic), and generally irritate our eyes. Additionally--pay attention to this--there are mites known as demodex that LOVE to live in the base of our eyelashes and feed off the dirt that gathers there. Google it! I dare you!  This is amplified with eyelash extensions that are not cleaned and maintained properly.  The glue that holds the lashes acts as more food for these pesky (and itchy!) little mites making you a yummy host if you don't clean your eyelids and lashes!
Demodex Mite Lash Infestation
Has someone told you shouldn't wash your extensions? I have had several patients mention to me that their lash extension specialist advised not washing the extensions to make them last longer so I asked a local lash extension specialist the proper way to care for your extensions from outside a medical view. Read what local specialist Ashly Moore of SG Skin Studio had to say about extensions below:
"Eyelash extensions are all the rage right now! They are absolutely stunning and can be safe for long-term wear if they are maintained properly.  We can never stress enough the importance of taking care of your lash extensions.  Not properly caring for your extensions can cause damage to your eyes and your natural eyelashes. Here are the top things that I advise for taking care of your extensions and lash health.  
| | |
| --- | --- |
| | Your lash extension specialist should provide you with special "lash shampoo" that you will brush through your lash extensions twice daily. This is the most important step in maintaining your lash extensions.  Dirty lashes can lead to build-up, eye infections, permanent lash loss, and LASH MITES! |
| | Any skin care products, creams, or cosmetics that are oil based are a 'no-no' when it comes to lash extensions.  Be sure to select products that are oil free to ensure longevity of your lashes. |
| WEAR NO MASCARA (or very little) | It's okay to occasionally throw some mascara on the lower lashes as long as it's not waterproof but daily use of numerous coats is not recommended.  It will leave build-up in  your extensions, making them heavy, and can lead to dirty lashes or lash damage.  Remember, you can't use oils so it's very hard to remove mascara from extensions once it is on them and you must keep your eye and extensions clean. |
| | Lash extensions will need to be filled every 2-3 weeks.  This not only keeps your lashes full and luscious but it also allows your lash specialist to keep a close watch on the health of your lash line, replace any extensions that have fallen out, and remove any lash extensions that have grown out too far to be replaced with new ones. |
| | Your eyes are sensitive! It's crucial that you understand how to properly care for extensions and be aware of any warning signs that something might be wrong.  Don't be afraid to ask as many questions as you need to ensure that you are comfortable with caring for your lashes at home. " |
Get the beautiful lashes you want but don't sell your eyes short! Your eye health should always be your priority. We only get one set!

Dr. Courtney Kwan, OD
Thanks to Ashly Moore at SG Skin Studio for both her images and answering my questions!
__________________________________________________________________________________
*Have a question or topic you would like us to address in a blog post? Message us on Facebook!
Pssst... Do you know how to get $100 off a pair of our glasses? You would if you follow us on social media!Follow us on Facebook and Instagram to see new frame styles, get tips and tricks on eye health, and hear about all of our current specials!
Upcoming blogs:  Part 2: Liners, Shadows, Primers, and Make-up Removal that Enhances your Look and Your Eye Health
You never need an appointment to browse our optical but if you're ready for your eye exam, call us at 573-756-5665 or reach out on www.fvcmo.com!